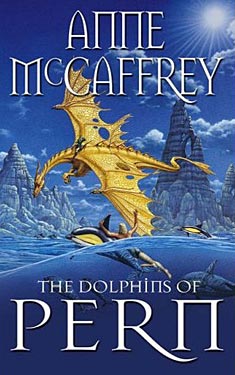 Ah, the Pern series.
Tricking fantasy fans into reading a huge bundle of science fiction novels before the big reveal that even though the series is all about dragons and their riders it's actually a sci-fi series. The Dolphins of Pern is the 13th book in the series, and is one of those books that you just pick up and read in a day.
"Knowledge is sometimes two-edged."
The Dolphins of Pern is, as the title suggests, all about the dolphins of Pern. Neglected by humans since the first threadfall, the dolphins of Pern are the uplifted descendants of Earth's dolphins. They're also much more charismatic than the dragons of the series, and Readis, the main character of The Dolphins of Pern, is, unlike most of the other main characters in the series, actually relateable. Perhaps this is because he isn't an arrogant, aristocratic dragon-rider.
Calling this book "my favourite in the series" isn't saying much. My wife, on the other hand, is a huge Pern fan, so maybe I'm the one who's wrong. The only Pern story that is, in my opinion, better than this one is The Runner of Pern, which offers a look at the peasant classes of Pern, a class that is largely ignored throughout the novels.
Not a fan.